"Blessed is she that believed, for there shall be a performance of those things told to her of the Lord." (Luke 1:45)
---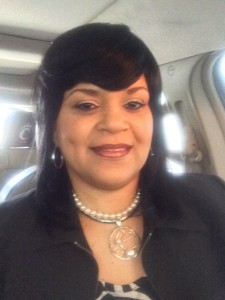 A native Ohioan, Angela P. King (Reid) was born in Dayton, Ohio and is the youngest and only daughter of four children born to the legacy of Thomas Reid Sr. & Minva Reid. She graduated from Chaminade-Julienne Catholic High School, and then went on to earn an undergraduate degree in Sociology with a minor in criminology / deviance from the University of Kentucky located in Lexington, Kentucky. She is independently licensed (LISW-S) in the State of Ohio and has worked in the field of social work for over 23 years. Her professional experience includes 13 years as clinical program supervisor at Lighthouse Youth Services, Inc. and 10 years with Hamilton County Children's Protective Services and Probation Officer for Juvenile Court. Lady Angela obtained a Master of Social Work degree with a concentration in health & gerontology from the University of Cincinnati; she now works full time at Cincinnati Children's Hospital and Medical Center, is currently an adjunct instructor with the School of Social Work and serves as a member of the medical social work staff at University Hospital. In addition, Lady Angela provides crisis / trauma intervention, end-of-life consultation and family-focused grief support.
Lady Angela was raised in a Christian home and throughout her childhood was a member of Lower Miami Church of the Brethren in Dayton, Ohio. In 1994, she joined St. Mark Missionary Baptist Church under the direction of her Pastor, Reverend Dr. Cecil Ferrell. She actively participated in several ministries to include new member's class, women's fellowship, Bible Study and the Senior / Adult Usher Board. She is a former student of St. Rita's school for the blind and she participated with the Sign Language Ministry at St. Mark MBC as well.
Lady Angela married Pastor Charles L. King, Jr. in 1995. Responding to the call of God in her and her husband's life, she joined First Baptist Church West College Hill in October 2005, under the Pastorate of her husband. She is the proud mother of two beautiful children: Adrianna Nicole and Charles L. King, III "Tre".
A Christian woman of virtue, poise, and grace, Lady Angela is known for her devotion, leadership and commitment. She served previously as the liaison for the Children's Church ministry and mentor/advisor for the Jr. Usher Board. Lady Angela also has accepted her assignment to help hurting young women move beyond their inadequacies, fears and failures toward spiritual and emotional wholeness through discovery of their God-given purpose. Continuing in the spirit of sisterhood, excellence and community service Lady Angela is also a proud and active member of Delta Sigma Theta Sorority, Inc. (Cincinnati Alumnae Chapter) and the School of Social Work Alumni board at the University of Cincinnati.
Lady Angela is a woman of true character, and she handles her obligation to serve in ministry with faithfulness and devotion. She takes her primary responsibilities as a Godly wife, mother, and mentor seriously. Although she never expected to be called to such a place of service, it is through the knowledge of God's Word, wisdom about His will and insight regarding His purpose that guides her life. She has become a woman of faith that trusts God and faces adversity with hope; a woman of faith that is fearless as she fears no evil, for God is with her and there is no ambiguity, no uncertain trump in her life; and a woman of faith that is confident because she understands the divine plan of our Heavenly Father and her role to continually bless the lives of others.