"I thank Christ Jesus our Lord, who has given me strength, that He considered
me faithful, appointing me to His service." (1 Timothy 1:12 NIV)
Follower of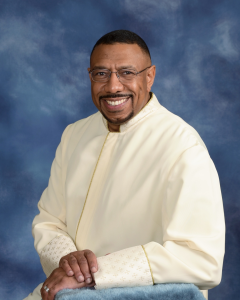 Christ, husband, father, brother, pastor, writer, strategic thinker, dreamer and teacher.
Pastor Charles L. King, Jr. is educated in Economics, Business, and Theological Studies and works as a Claim Account Executive for a national insurance company. He is also a graduate of the health Leadership Institute for Faith-Based Organizations. Pastor King currently serves on the Springfield Township Police Community Relations Taskforce, and maintains a collaborative role with Springfield Township, the cities of Cincinnati and North College Hill, as well as the College Hill Ministerium. He is also a member of Euclid Lodge #97—Prince Hall Free & Accepted Masons (P.H.F. & A.M.). Previous accreditations include Executive Board member for the Cincinnati Habitat for Humanity; Community Involvement award recipient from West College Hill; "Who's Who" registry for Executives and Professionals; and Pastor of the Year by the Cincinnati Gospel Awards.
Under his leadership, First Baptist Church West College Hill (FBCWCH) has evolved into a 21st century operation through the access and utilization of WiFi, E-mail, and Internet technology; strategic planning; and social media. The church has also upgraded its computer software and audio-visual equipment and technology. They have joined Interfaith Hospitality Network (IHN) as a support church assisting host congregations "to provide homeless families emergency shelter and hospitality through interfaith communities", and partnered with Bethany House to adopt the women and children to provide personal care and support items and engage in semi-annual fellowship with them. Children's Church ministry was established and the church continues to seek innovative and effective ways to serve and engage youth and young adults through Sunday School, Children's Church, and Vacation Bible School.
Pastor King married Angela P. King (Reid) in 1995 and they have two wonderful children: Adrianna Nicole and Charles L., III, affectionately known as "Tre". Responding to the call of God in his life, the family joined Frist Baptist Church West College Hill in 2005.
As a born again, baptized believer in Jesus Christ, Pastor Charles L. King, Jr. thrives on being a person who leads and motivates by the example of Christ. As a Pastor, he sees himself as one who should nurture and protect; as well as, spiritually direct and train those persons who have been entrusted to his care. Pastor King was ordained and called to reach people in the name of Jesus, disciple people in the way of Jesus, and empower people in the service of Jesus. He sees his task as one who must seek, and communicate Christ to the spiritually lost in the community. Within his various leadership roles throughout the communities surrounding FBCWCH, he helps to create strategies to organize individuals for community action and encourage others to assume and carry out effective leadership to reflect the broad diversity of the neighborhoods and public at large.
While he continues to remain humbled by the idea of God's calling him to become a Gospel preacher/teacher and Pastor, he has dedicated his life as one living the in the light of God's blessings. He strives to always be evangelistic in his preaching/teaching, while holding fast to Biblical truths and practical aspects of Pulpit Ministry. He seeks to follow the wisdom of the scriptures as an effective leaders striving to advance the Kingdom of God, and maintain a lifestyle that complements his faith in the Lord Jesus Christ!