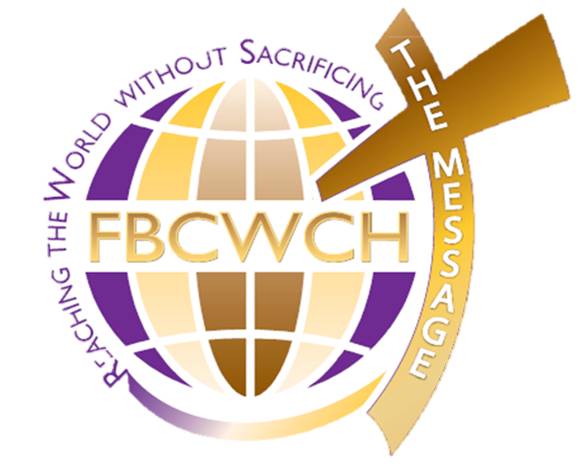 First Baptist Church of West College Hill
June 17, 2020
Greetings Church Family,
Our church family has been in prayer for the health and safety of everyone during the Coronavirus pandemic and most recently, the social justice unrest. We are believing that our Lord and Savior is in control and He will see us through these unprecedented times. Let us continue to hold up one another in prayer.
We are faithfully believing that the Lord is preparing us to reassemble again and come together for praise and worship. The Leadership Team has researched and collaborated in developing a strategic return-to-church plan. It is vital to the safety and health of all members that we adhere to the Center for Disease Control and Prevention (CDC) protocols for assembling in a church setting. Please understand as we share our plan to return to our church, we strongly believe that each member should pray for wisdom. Depend on God to direct you in making the most prudent decision regarding your individual spiritual, physical and mental needs.
We will reopen our church for praise and worship on Sunday, June 21, 2020 starting with Sunday School at 9:30am and morning worship service beginning at 11:00am.
Return to Church COVID-19 Safety Protocol and Procedures Plan
Facemask/face coverings: All people attending services must wear a mask/face covering. Please place your mask/face covering on your face prior to entering the church building. We strongly request you supply your own mask/face covering. Masks will be available if needed.
Sanitized Washing Stations: There will be sanitized washing stations set up around the church for your convenience and protection. Please sanitize your hands once entering the vestibule and prior to checking in with the Nursing Guild for temperature check.
Temperature Assessments: The Nursing Guild will take your temperature at the front entrance of the church building inside the vestibule. Only people with a temperature of 100.3 or lower will be allowed entry in the church service. The CDC recommends temperatures higher than 100.3 should not join public assemblies. We ask that if your temperature registers higher than 100.3 that you return home to address this warning symptom.
Social Distancing Seating: After the Nursing Guild has cleared you for entry you will be under the direction of the Ushers. We will be practicing the CDC social distancing protocol. Seating will be six feet apart except for families sitting together. We are asking for your patience and understanding as our Ushers do their best to seat everyone in a safe manner per the CDC requirements.
Altar Call/Exiting Church Service: We will continue to practice social distancing. The Altar Call Prayer will take place at your seat. Please follow the Ushers' directions in being dismissed to leave the church service in order to practice social distancing. Please pick up around your seating area as necessary.
Tithes/Offering Procedure: In order to limit the person to person contact please place your tithes and offering in the tithe's box and the offering trays that will be located in the rear of the church upon entering or exiting the service. Offering envelops will be available in the back of the church. We greatly appreciate it if you have correct change. If not, change will be provided by the finance committee.
Restrooms Protocol: The restrooms will be available for use. Due to safety and health protection we are requiring that you clean the toilet seat before and after use. Sanitized cleaning supplies will be available in each restroom. There will be signs posted that will direct you in taking safe and healthy measures for your protection.
Until further notice the following services will be suspended:
Church Family we are all in this together and with the Help of the Almighty, Who is always with us. We will get through it victoriously!
"For where two or three have gathered together in My name, I am there in their midst."
Matthew 18:20
To God Be Praised!
Be Blessed Saints,
Pastor Charles King, Jr., Lady Angela King
The FBCWCH Leadership Team